Executive Vice President, Options Regulation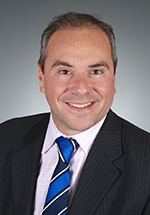 Gene DeMaio is Executive Vice President in FINRA's Market Regulation Department, with responsibility for managing the Options Regulation and Trading and Financial Compliance Examinations programs.
Prior to joining FINRA, Mr. DeMaio was an Options Market Maker at the American Stock Exchange, and earlier worked as an attorney at the law firm of Kord Lagemann, where he represented complainants in securities arbitration disputes. Mr. DeMaio is a graduate of Fordham Law and earned his LL.M at New York University.