Senior Director, International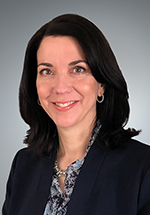 Gloria Dalton is Senior Director of the International team at FINRA. In this capacity, she facilitates FINRA's engagement with foreign regulators through bilateral cooperation and information sharing. She coordinates FINRA's representation in multilateral initiatives, including the International Organization of Securities Commissions.
Prior to joining FINRA in 2016, Ms. Dalton spent 17 years at the U.S. Securities and Exchange Commission. During this time, she served in a variety of roles including as the Assistant Director for Supervisory Cooperation in the SEC's Office of International Affairs (OIA) and Counsel to the Director of OIA. Ms. Dalton also spent three years at the U.S. Commodity Futures Trading Commission as a staff attorney in the Division of Trading and Markets.
Ms. Dalton holds a BS in Finance from Virginia Tech and a JD from George Mason University School of Law.