Senior Vice President, Office of Government Affairs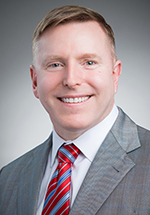 Gregory J. Dean, Jr. is Senior Vice President of the Office of Government Affairs.
Before joining FINRA, Mr. Dean was Senior Director of Regulatory & Government Affairs at the Royal Bank of Canada (RBC). Before joining RBC in 2015, he served for more than 14 years in a variety of roles on Capitol Hill, including serving as Chief Counsel for three separate committees in the U.S. Senate including on the Banking, Housing and Urban Affairs, Health, Education, Labor and Pensions, and Budget Committees. He also was Staff Director for the Securities Subcommittee of the Senate Banking Committee. In addition, he was the Finance Counsel for the U.S. House Committee on Small Business and the Banking Counsel for the Senate Committee on Small Business and Entrepreneurship.
Prior to his Congressional career, Mr. Dean was an attorney in the Office of the General Counsel at FINRA's predecessor, NASD Regulation. He began his career at the U.S. Small Business Administration, Office of Advocacy.
Mr. Dean received his bachelor of arts from Villanova University and his J.D. from The Widener University School of Law.