Senior Vice President, Finance and Administration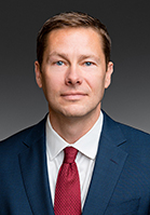 Jeffrey Kalinowski is Senior Vice President, Finance and Administration. In this capacity, he serves as the investment steward for FINRA's reserve portfolio, retirement plans and the FINRA Investor Education Foundation. In addition, he oversees FINRA's commercial real estate, risk management and treasury functions.
Prior to joining FINRA, he was a director at Strategic Investment Group where he worked with a range of institutional clients, including corporate pensions, endowments and foundations, in all aspects of developing, maintaining and optimizing their respective investment programs.
Prior to this role, Mr. Kalinowski worked for T. Rowe Price as a Vice President, Portfolio Specialist where he served global institutions in representing a $14 billion fixed income franchise. His investment background also includes several years with Waddell & Reed Financial, Inc. and Ivy Funds.
Mr. Kalinowski holds a Bachelor of Science degree in Finance and General Business from Missouri State University, and an MBA with Honors with an emphasis in Finance & Accounting from Regis University. He also holds the Chartered Financial Analyst® Charterholder designation.