Senior Vice President, Enterprise Application Platforms & Business Applications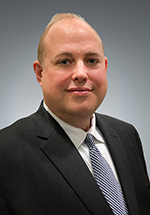 Karl Brock is Senior Vice President, Technology. In this capacity, he oversees strategy, development, support, and operations of enterprise application platforms and is the primary technology executive for the Enforcement, Advertising Regulation, Corporate Financing, Office of General Council and corporate systems.  
Mr. Brock has been with FINRA since 2015 as an employee. He previously worked at FINRA as a consultant from 2006 – 2009, leading the Proctor rewrite and later as the technical lead for the NASD and NASDAQ Member Regulation merger. Prior to joining FINRA, Mr. Brock spent 15 years in the financial industry working for regulatory, banking, trading and mortgage organizations.
He also serves on FINRA's Records Management Board, which is responsible for setting FINRA records management policy and for establishing and overseeing an enterprise-wide approach to records management, and is chairman of the Solutions Subcommittee, which is responsible for development of supporting technology and infrastructure.
He holds a Bachelor of Science in Electrical Engineering and Semiconductor Physics from Texas A&M University and graduate degrees in Computer Science from Carnegie Mellon University.