Senior Vice President and Chief Compliance Officer, Ethics and Compliance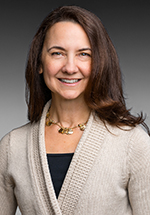 Natalie Meyer is Senior Vice President, Chief Compliance Officer and Counsel in FINRA's Ethics and Compliance Office. In this role, Ms. Meyer oversees FINRA's Ethics, Compliance and Data Privacy Programs, as well as FINRA's Oversight Liaison's office. Additionally, Ms. Meyer is responsible for overseeing FINRA's Commercial Transactions Group in the Office of General Counsel. In these roles, she works closely with business and technology leaders across the company on regulatory, compliance and commercial matters.
Ms. Meyer previously served as Vice President and Associate General Counsel, Ethics and Commercial Transactions at FINRA. Prior to joining FINRA in 2002, Ms. Meyer began her legal career in private practice as a securities and technology transactions lawyer in New York.
Ms. Meyer received her J.D. from the University of Virginia School of Law, her in M.A. in English from the University of Virginia, and her B.A. summa cum laude in Political Science and English from Birmingham-Southern College.