Principal Analyst, Fixed Income Regulation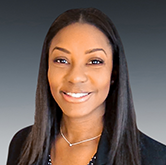 Sydney Teixeira joined FINRA in 2016 and is a Principal Analyst in the Fixed Income Regulation, Regulatory Policy and Practice department, responsible for monitoring the policy and examination implications of fixed income regulatory matters. As a member of Fixed Income Regulation, Ms. Teixeira has contributed to several of the group's initiatives, including the response to the COVID-19 impact on the fixed income markets, enhancing risk identification review and conducting trainings on MSRB updates. In addition to her role, Ms. Teixeira is the current co-chair of FINRA's African American Network Employee Resource Group.
Prior to joining FINRA, Ms. Teixeira worked as a Wealth Advisor Associate for Morgan Stanley.  While pursuing her law degree she also interned with T. Rowe Price Legal and Compliance and for Congressman Gregory Meeks in the House of Representatives. She has a J.D./M.B.A. from Washington University St. Louis, and a B.A. from Vanderbilt University.