Vice President, Investigations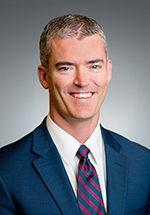 Terrence Bohan is the Vice President of Investigations for Enforcement. In that capacity, he manages Enforcement's investigators located throughout the various FINRA offices nationwide as they investigate potential securities violations and, when warranted, bring formal disciplinary actions against firms and their associated persons. Mr. Bohan also oversees the Forensic Investigations and Litigation Support group, which supports FINRA's use of forensic tools and e-discovery technologies. He joined FINRA in 2018.
Before joining FINRA, Mr. Bohan spent over 23 years with the SEC's New York Regional Office's broker-dealer inspection program, primarily as a cause examination manager. In that role, Mr. Bohan identified and developed numerous significant cases involving fraudulent securities offerings, manipulations, Ponzi schemes, unregistered distributions of securities, money laundering and egregious sales practice schemes. He has worked extensively with law enforcement in the New York area, including the U.S. Attorney's Office, FBI, IRS, Postal Inspection Service and Manhattan District Attorney's Office.
Mr. Bohan received his Bachelor of Science in finance from Fordham University.