Vice President, Regulatory Risk Counsel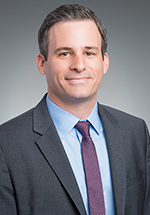 As Vice President – Regulatory Risk Counsel, Alex Ellenberg is responsible for providing guidance, counsel and analysis to the leadership team and various Market Regulation and Transparency Services (MRTS) groups regarding a wide variety of strategic, operational, regulatory, risk and compliance functions and activities. He also supports and provides strategic risk analysis to the MRTS team in connection with FINRA's participation in the National Market System Plans, including the Consolidated Audit Trail and Securities Information Processor Plans. 
Mr, Ellenberg previously served as an Associate General Counsel in the Capital Markets Group of FINRA's Office of General Counsel, where he provided legal and strategic advice on equity and fixed income market structure matters, drafted rule proposals and consulted with MRTS, Examination and Enforcement staff on various interpretive issues. Prior to joining FINRA, he worked for the SEC in the Division of Trading and Markets, and previously was in private practice at Covington & Burling LLP and clerked for a federal trial judge in Washington, DC. 
Mr. Ellenberg graduated from Cornell Law School and the University of Pennsylvania.