Vice President, Operations, Procedures and Standards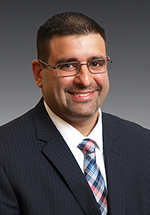 Demetrios ("J") Koutros is Vice President of Member Supervision's Operations, Procedures, and Standards group. Mr. Koutros has been integral to the operation and execution of the Risk Monitoring and Examinations regulatory programs since joining FINRA in 2005. In his current role, Mr. Koutros oversees the implementation of and adherence to procedures, controls and standards for Member Supervision's various regulatory and functional programs, and interfaces with other regulatory agencies, exchanges, advisory committees of the FINRA Board of Governors and third parties in furtherance of FINRA's regulatory programs. He also advises and manages consistency of all Member Supervision's operations and supports compliance across other FINRA regulatory programs and departments.
Prior to FINRA, Mr. Koutros held managerial roles in regulatory reporting and operations control at several firms in the securities industry, including Prudential Securities, Citigroup and National Financial Services.
Mr. Koutros is a lifelong New York City resident and holds a bachelor's degree from Pace University.