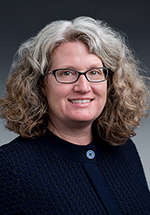 Heather Seidel is Chief Counsel in the Office of Regulatory Economics and Market Analysis.  In this capacity, Ms. Seidel serves as a member of the leadership team, advising on policy formation and providing expert interpretative guidance on regulatory, policy and legal matters.  She also works in partnership with colleagues in the Regulatory Operations departments, the Office of General Counsel and other offices and departments throughout FINRA on joint projects and initiatives and represents the EVP and Office at meetings with internal and external constituents.   
Prior to joining FINRA in 2018, Ms. Seidel served as Chief Counsel in the Division of Trading and Markets at the U.S. Securities and Exchange Commission. While Chief Counsel, she also served in 2017 as the Acting Director for Trading and Markets.  Prior to becoming Chief Counsel, Ms. Seidel was held various positions in the Office of Market Supervision (OMS) in Trading and Markets as Associate Director, Assistant Director, Senior Special Counsel and Attorney Fellow.  Before returning to the SEC in 2003, Ms. Seidel was Vice President in the Law Division at Morgan Stanley & Co. Incorporated in New York, NY and an associate at Wilmer, Cutler & Pickering in Washington, DC.  She started her securities law career in 1996 at the SEC in the Divisions of Market Regulation (now Trading and Markets) and Investment Management. 
Ms. Seidel holds a B.S. in Psychology from the University of Connecticut and a J.D. from Georgetown University Law Center.