Senior Vice President and Director of Capital Markets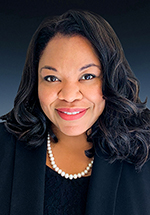 Racquel Russell is Senior Vice President and Director of Capital Markets in FINRA's Office of General Counsel (OGC). In this role, Ms. Russell oversees the Capital Markets Office as it develops new policy initiatives, provides counsel to the Department of Market Regulation and Transparency Services, and supports the fixed income examinations of the Member Supervision Department. She also provides expert guidance to the FINRA Board of Governors and senior management.
Ms. Russell joined OGC in 2008 and previously served as an Associate General Counsel and an Assistant General Counsel. Prior to joining FINRA, Ms. Russell was a Vice President in the Legal and Compliance Department at J.P. Morgan, London, UK. She also worked in a variety of legal roles at the U.S. Securities and Exchange Commission, including as a Branch Chief for Trading Practices in the Division of Trading and Markets.
Ms. Russell earned a B.A. in Psychology from Canisius College and J.D. and M.B.A. degrees from the State University of New York at Buffalo, School of Law and School of Management.