Vice President and Ombuds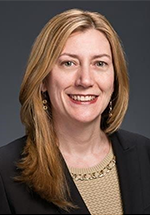 As FINRA's Ombuds, Sarah Gill serves as an independent, neutral and confidential resource for investors, brokerage firms, individual brokers, FINRA staff and other stakeholders who have questions or concerns regarding activities of FINRA and its employees. She advocates for fair processes and the fair administration of FINRA's processes.  
Ms. Gill previously led FINRA's State Government Affairs program, providing strategic advice on policy issues and fostering FINRA's relationships and collaboration with the North American Securities Administrators Association (NASAA) and state securities regulators.
Prior to joining FINRA, Ms. Gill was a Senior Vice President at LPL Financial, with roles including Head of Regulatory Policy and Associate General Counsel. She has also served as an Assistant General Counsel in FINRA's Office of General Counsel, a Counsel at WilmerHale and a law clerk for the Honorable Ricardo Urbina, U.S. District Judge for the District of Columbia. Ms. Gill began her legal career as an officer in the U.S. Navy JAG Corps, with assignments as a military prosecutor at Naval Station Pearl Harbor, legal advisor to the NCIS Hawaii Field Office and a Special Assistant U.S. Attorney at the U.S. Attorney's Office in Honolulu.
Ms. Gill obtained her Juris Doctor from the UCLA School of Law and a Bachelor of Arts magna cum laude in biomedical ethics from the University of Pennsylvania.