Resolution and Results for Customers
In FINRA arbitration, the majority of customer cases – approximately 69% – result in settlements reached by the parties. Typically, appoximately 18% of all cases proceed to award. For more information on how cases close, view the dispute resolution statistics.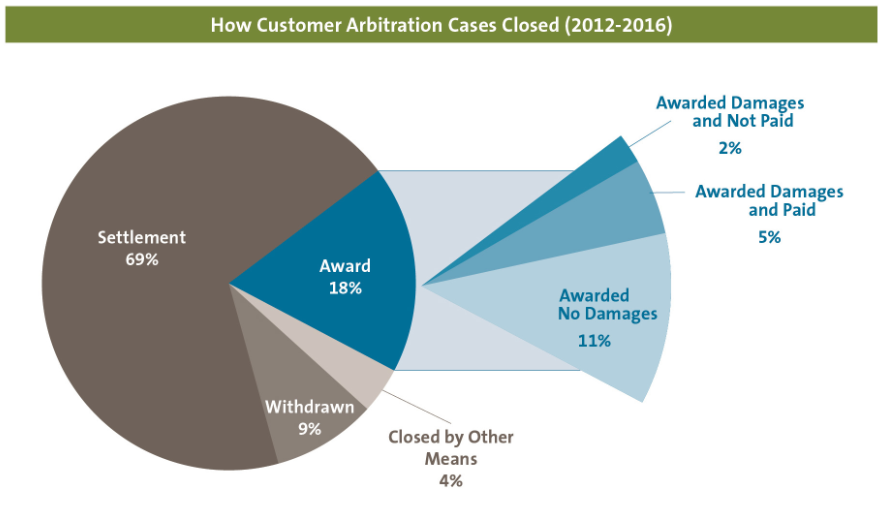 Settlement – The vast majority of settlements result in monetary relief for the customer claimant.

Mediation – A number of cases are settled through an informal, voluntary process in which a mediator facilitates negotiations between disputing parties.

Award – Customer arbitration cases decided by award represent a small subset of all cases filed. All awards are publically available through FINRA's Arbitration Awards database.

Non-payment of Award – FINRA works to help customers enforce payment of awards by member firms and registered representatives. FINRA suspends individuals and firms from the broker-dealer industry due to non-payment of a FINRA arbitration award. For more information, see Statistics on Unpaid Customer Awards in FINRA Arbitration.
FINRA makes available a list of firms and individuals responsible for unpaid customer arbitration awards.

Withdrawn – In some cases, claims are withdrawn by the claimant, either with or without prejudice.
Closed by Other Means – Other reasons a case may close include a stipulated award, bankruptcy of a critical party, an uncured deficient claim, denial of the forum, or a stay by court action.