Vice President and Director, Appellate Group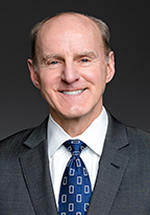 Alan Lawhead is Vice President and Director of the Appellate Group. He leads a group of appellate attorneys who defend FINRA's decisions that are on appeal to the Securities and Exchange Commission. The Appellate Group also provides legal advice to FINRA's appellate body, the National Adjudicatory Council, in the following areas: appeals of Hearing Panel disciplinary decisions; statutory disqualification applications; appeals of membership application denials; qualification examination appeals; review of Hearing Panel expedited decisions; and amendments to the Sanction Guidelines.
Before joining FINRA in 1997, Mr. Lawhead worked as a litigation associate with Gibson Dunn & Crutcher LLP, in California. He served as law clerk to the Honorable John S. Rhoades of the U.S. District Court for the Southern District of California.
He is a graduate of the University of Southern California and received his J.D. and MBA from Georgetown University.